The United Methodist Church of Boyceville welcomes you and invites you to visit us.

Cornerstones Concert Sunday March 8, at 4 pm.
Benefit for Paige Williams and the Coat Closet
With a Soup & Sandwich Supper and Bake Sale after the concert.
A free will offering will be taken.

Paige Williams is the step-daughter of Jessica (Gove) Miner, who grew up in the Boyceville Church, and is a 6th grader at Tiffany Creek Elementary. Paige is recovering from a serious medical condition which has put a financial burden on the family.
The Coat Closet has been serving the community and beyond since 2002 and has given away over 16,000 items providing coats, hats and other warm winter clothing.
All donations will go to Paige Williams and the Coat Closet. Hope to see you there!
Lenten Schedule

March 4 -- Downing UMC, Meal at 5:30, Service at 6 pm. March 11 -- Faith UMC in Prairie Farm, Meal at 6:15, Service at 7 pm.
March 18 -- Grace UMC in Wheeler, Meal at 6:15, Service at 7 pm.
March 25 -- Boyceville UMC, Meal at 6:15, Service at 7 pm.
March 29 -- Palm Sunday Service at Faith UMC in Prairie Farm, 10 am. No service at Boyceville or Grace.
April 2 -- Maunday Thursday at Faith UMC in Prairie Farm, Service at 7 pm.
April 3 -- Good Friday Services to be announce.
Our Pastor is Timothy Matthaei.

Worship Service - 9:45 a.m.

Children's Sunday School is during the worship service.

Communion is served the first Sunday of each month. We practice Open Communion, all are welcome at the table.

Coffee Time is the first and third Sunday after the service. Come and join us for a cookie, coffee and great fellowship.

On the third Sunday of the month we have a hymn sing at 9:30 am. Come and request your favorite.

"Jesus is Alive" Contemporary Service, Wednesday December 3 & 17 at 7 pm. A light meal is served before the service at 6 pm.








Check out

Chuck Knows Church

from the Global Board of Discipleship. Each week features a new episode about the church.




UMCmarket

Do you shop online? If so here is any easy way you can make a donation to your church.

The UMCmarket

is a United Methodist website that links you to 1,000 online sellers. When you join and then make purchases from UMCmarket a percentage of your purchase will go to the church of your choice. To join all you need is an email address and a password of your choice. Then indicate the church of your choice, Boyceville, Wheeler Grace or Prairie Farm. When a church reaches $100 in donations a check will be sent to the church. You will find the UMCmarket at

www.umcmarket.net

.



Click here to visit the website of our sister church Faith United Methodist Church in Prairie Farm.


Be sure to check out the new website links a
t
Favorite Links.


The church is located at 804 St. John Street, Boyceville, WI 54725.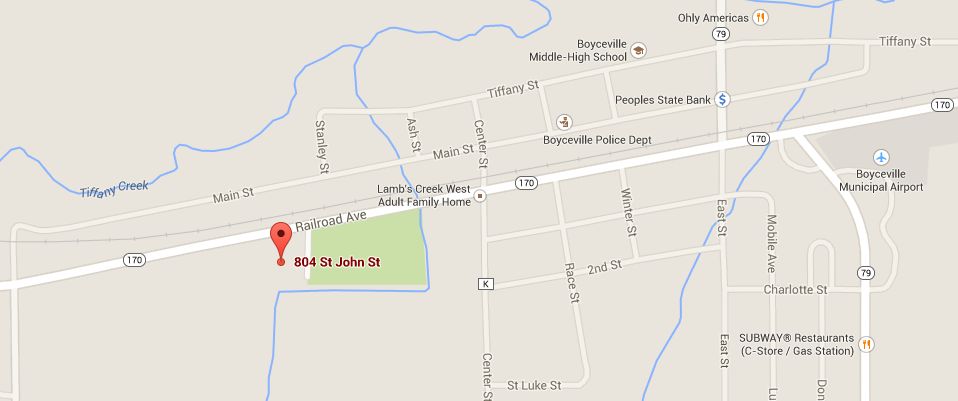 Website last updated February 27, 2015.